Marie-Laure, in charge of the stuffing process: "I feel like I'm giving life to the plush toys."
It has been 19 years since I have been working at the Michel Taillis Workshop. I arrived during the Christmas season, for a small job in checking the transport cases of the automatons. Then I discovered the stuffing process, and I've been here ever since!
What we call 'stuffing' is the final step in making an automaton. It involves placing the metal framework inside the faux fur covering, then filling it with stuffing to give it a nice shape and finally sewing up the back.
I take care to cover any rough edges and corners of the framework with plaster or a bellows to prevent damaging the fabrics and to prevent the stuffing from obstructing the mechanism.
It's important to center the framework within the plush, not over-pack the stuffing – to avoid bulges on the legs, for example – and position the head just right so that the gaze is straight and the movement is balanced. It's not easy every day. Sometimes we struggle with certain mechanics or a new model. Sewing mistakes can also complicate our task. But we always find solutions. Sewing, mechanics, stuffing: each step is carried out meticulously in our workshop, and that's what ensures the quality of our automatons.
I love my job because every day is different. Right now, I'm working on a teddy bear, yesterday it was a baby elephant! And then, I feel like I'm giving life to these animals a little bit...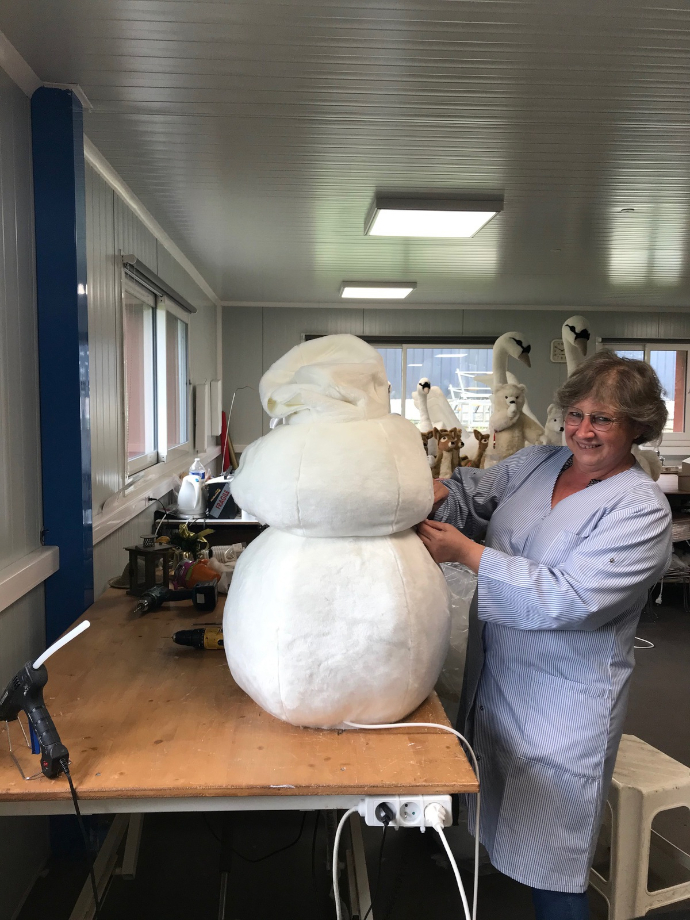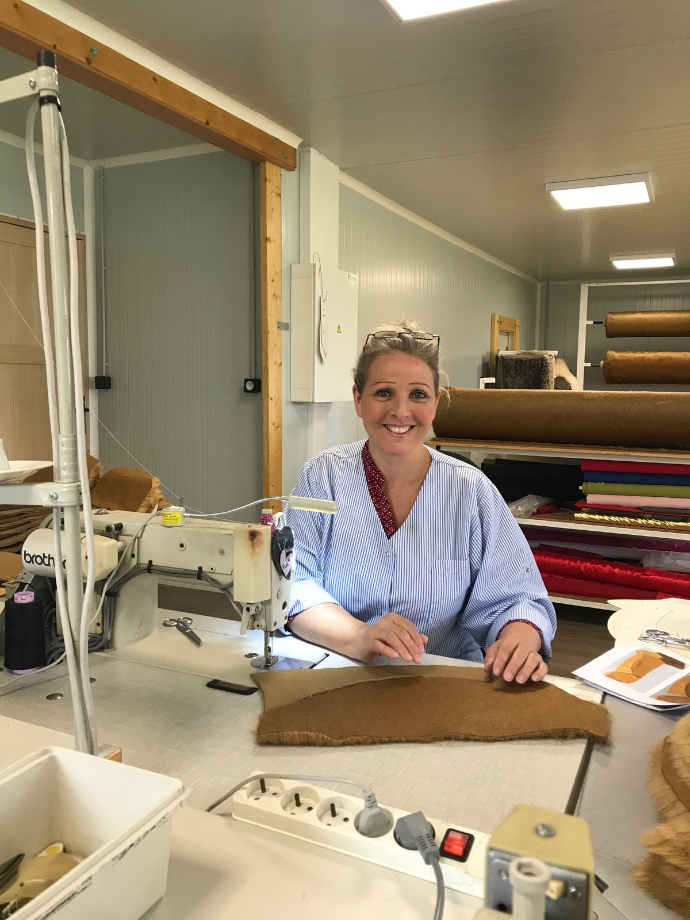 Virginie and Sandie, seamstresses: "It's truly a craftwork."
Virginie: "I've been working at the Michel Taillis Workshop for fifteen years. Before that, I was a seamstress for a shirt manufacturing company. I immediately liked it because we don't work on an assembly line, and we never do the same thing: one day, we work on a penguin, the next day on a snowman, and then on a three-meter-tall polar bear!"
Sandie: "I joined three years ago. The tracing and cutting are done piece by piece, by hand. It can be challenging, especially with the long fur of faux furs. For a bear like Leonard, you need eight pieces just for the head, in three different fabrics, and about ten pieces for the body."
Virginie: "Some models are more delicate to make than others. We have around sixty different patterns! Sometimes we have to sew by hand and not with a sewing machine, especially for the snout or the nose of a bear, for example. It's truly a craftwork. It's also what gives this unique result, ensuring the quality and beauty of our automatons."
Sandie: "It's nice to touch and work with these materials. When we finish a plush, we're proud of the result. It's gratifying to see our automatons in the shop windows; you can immediately recognize the ones we've made."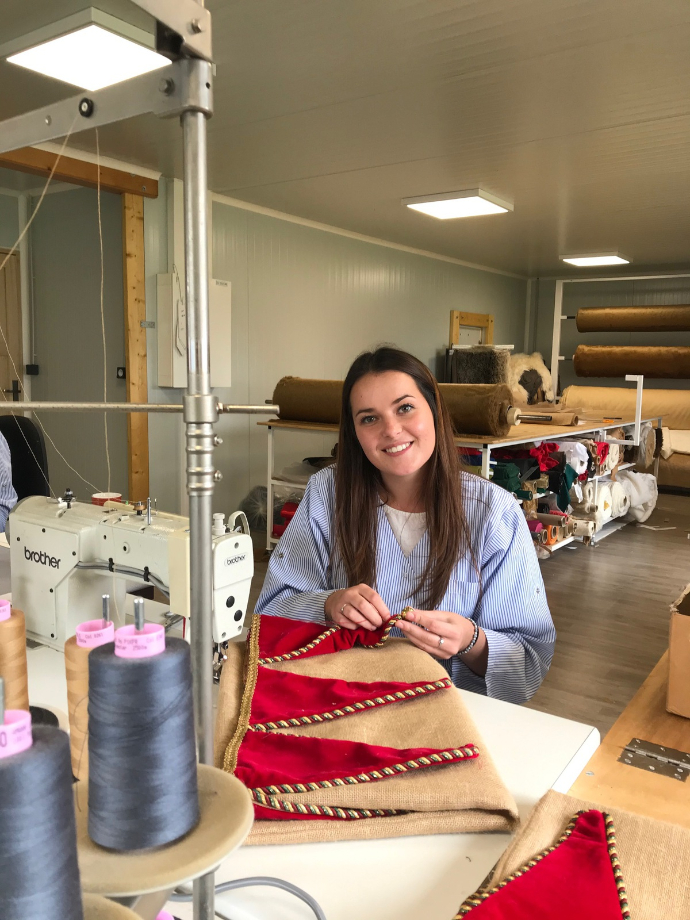 Virginie, Sales Manager for France/Export - Design & Creation: "I really enjoy the interaction with customers."
I started working for the company 21 years ago, initially to assist Michel Taillis with the commercial aspects at trade shows. With the growth of international sales and my proficiency in English, I was quickly hired on a permanent basis. Today, I handle relationships with all our customers, from the initial contact to the shipment of the automatons.
We work directly with retailers who want to liven up their storefronts, as well as many interior decorators with large projects that include our automatons for department stores, hotels, garden centers, amusement parks, both in Europe and countries like Brazil, Australia, Japan, and more.
I take pleasure in reconnecting with loyal customers, those who come to us every year to rent our automatons for the holiday season, for instance, and meeting new customers. Some know exactly what they want, while for others, we take the time to discuss and refine their needs, even creating custom automatons if necessary.
They appreciate the reliability and realism of our automatons, both in movement and appearance. It's safe to say we put a lot of care into our work! Nearly all the plush is handcrafted. Furthermore, we offer after-sales service to handle breakdowns (which are very rare) and to provide cleaning and maintenance for older automatons. The automatons we sold over fifteen years ago are still in use and never go out of style.
In parallel, I also work on the marketing side: creating new automatons and searching for accessories to make them as charming as possible. I spend a lot of time watching wildlife documentaries to identify real movements, and then I discuss with the mechanics to see if it's feasible.
I love this creative aspect. We can't have all animals move the same way. If a lion and a poodle move their heads the same way, it's not interesting at all. In a series of rabbits, you have to vary the movements. But we strive to be as close to reality as possible; it's a guarantee of impact on audiences and the attractiveness of our products. There's a noticeable difference between our automatons and those of our competitors, and our customers don't miss that either.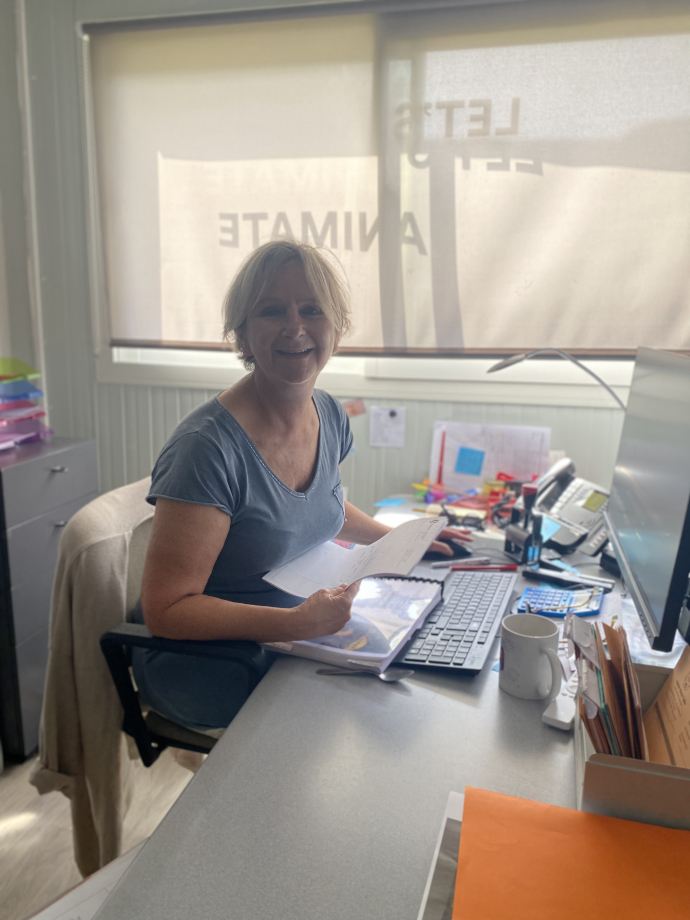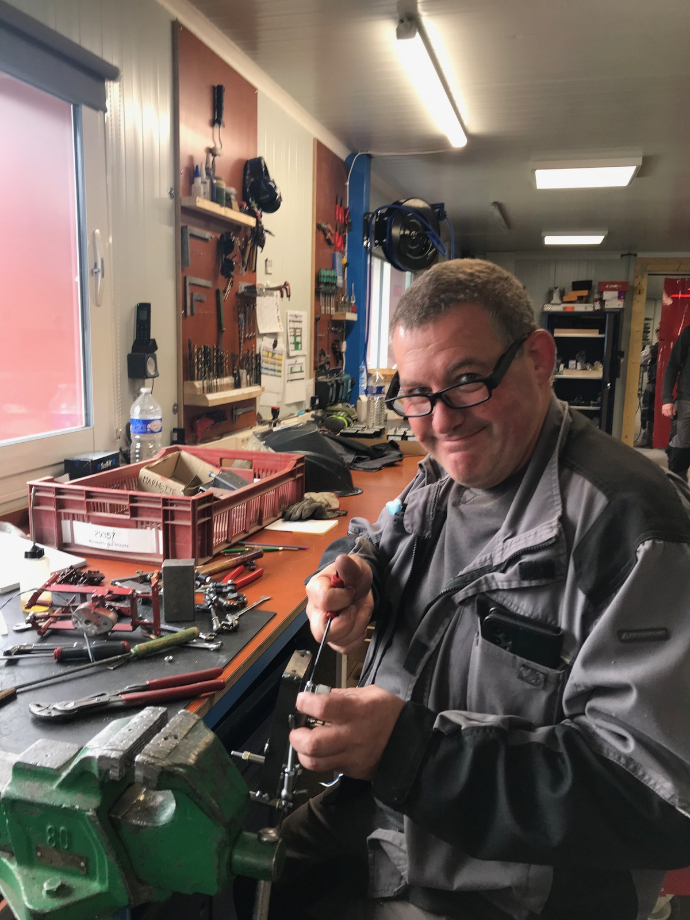 Sébastien, automation specialist, workshop manager, and developer: 'Everything is done to ensure the automatons last as long as possible.'
I am responsible for designing custom automatons, unique pieces. It can involve creating a new product for which we need to develop the mechanism that will produce specific movements, and then we will produce them in small series. Sometimes, I respond to specific requests: the customer brings their own plush or a mannequin they want to animate, and I design the mechanism. I work on certain parts with my colleague Mathieu; we're used to working together, and we immediately see what needs to be done.
I am the longest-serving member in the workshop; I've been here since 1998. The company needed someone for shipments initially, and then I was involved in making transport cases. Over the months, I began to make repairs on automatons before they were sent out for rental. I quickly found my place in the workshop!
In our profession, you need to be versatile to be able to handle a piece from start to finish: woodworking, metalwork, electrical work... That's what I enjoy, being able to work on different things and not doing the same thing all the time. We work on very different automatons and also on decorations, trade shows...
Virginie will come to me with a new plush and ideas for movements: 'I'd like it to have this head movement.' Sometimes, it's a bit complex. We try to achieve the most natural and reliable movement possible while remaining realistic in terms of the selling price. We take pride when we manage to create a movement that we like.
Everything is artisanal, done in the workshop, by hand. Everything is done to make it last as long as possible. We work in the traditional way, using the true basics of automatons: electric motors, connecting rods, cranks, and angle drives. And we provide after-sales service: products come back after 10 or 15 years of use, and we make it a point to maintain them. Being able to repair an automaton 10 years after its purchase is a mark of quality.
Morgan, electrician and logistics manager: 'It's magical when the plush starts moving.'
I am responsible for the electrical aspect of the automatons. I connect the motors, secure the power cables, install the capacitors... I have to adjust the voltage and power plug according to the destination country: 24, 210, 220 Volts...
I also handle all the logistics. The rental automatons are transported in custom-made plywood cases. The automatons that are sold are placed in boxes that we buy in various sizes. Depending on the destination, the pallets need to be wrapped and fumigated.
I also lend a hand in mechanics and carpentry to handle after-sales service for the automatons and cases after the holiday season. We all pitch in to open the cases, check the condition of the automatons, set aside what needs to be repaired... All our automatons are checked not once but twice before they go back to a customer.
I've been with Michel Taillis for 10 years, and what I enjoy is being able to work on everything: we never do the same thing, it's not assembly line work. There aren't many companies that manufacture automatons. After wiring and connecting the automaton, it's magical when the plush starts moving. And in the storefronts, it's even better because there's the whole scene.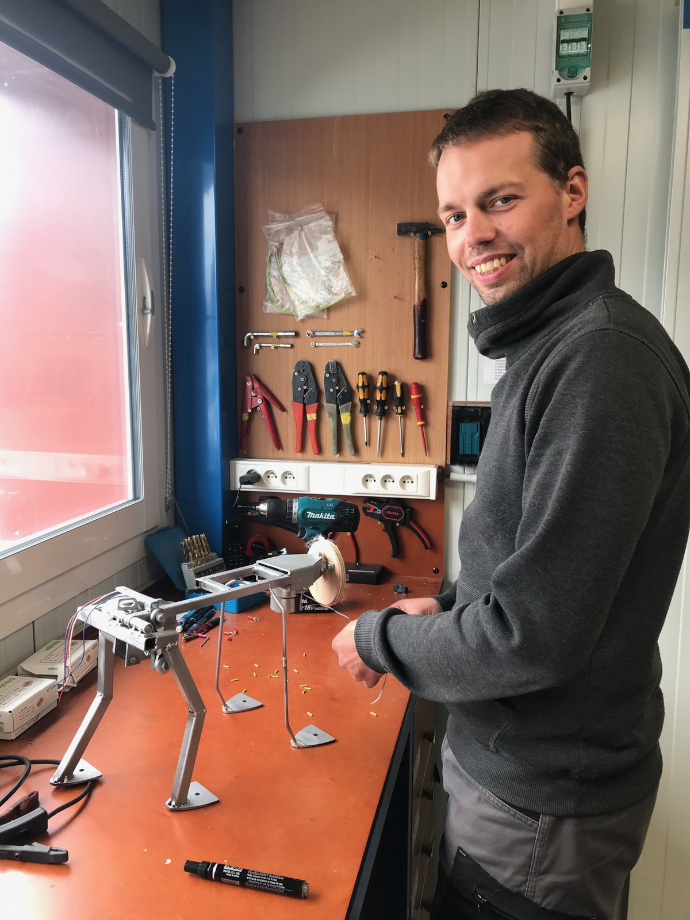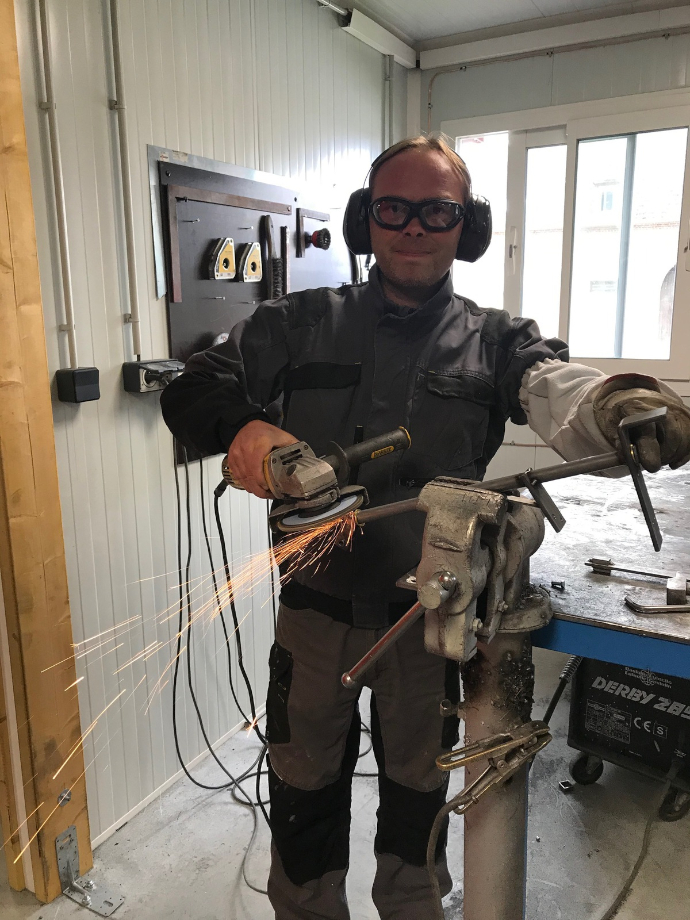 Mathieu, automaton mechanic: 'We take pride in doing a job well.'
I've been working at the Atelier Michel Taillis for 20 years. I am an automaton mechanic, and I primarily handle after-sales service: I take care of the maintenance for the automatons that go out for rental and those that break down (which is rare!).
I also do production work: Sébastien gives me a model he has just created, and I reproduce it in ten or twenty copies. In practice, I cut large metal bars, weld, assemble the motor and connecting rod, and apply grease... I can also lend a hand to Marie-Laure with the stuffing process.
All our automatons are different, and the mechanisms vary in complexity. We aim to create realistic and reliable automatons. We like things to be well done; we can spend an extra hour to ensure the result is perfect.
When placed in high-traffic areas, automatons can sometimes be mistreated. Plus, there is natural wear and tear: motors heat up and can burn out. So, we have to disassemble everything to replace the motor; it's an opportunity for a comprehensive check, and it's good for another 10 years! We provide full after-sales service, unlike our competitors. If a device breaks down, we pick it up and repair it immediately to ensure customer satisfaction.
Carole, executive assistant: 'I am happy to have happy customers.'
I have been working at Michel Taillis for exactly 20 years. I am the assistant to the CEO, and I participate in all aspects of the company: organizing trade shows, managing production, HR management, customer relations, supplier payments, schedule management, and liaising with the accounting firm...
I remember our first participation in international trade shows. I spoke English fluently, and I was happy to present our products to visitors and meet our clients every year. I am proud to see that our automatons are selling worldwide.
We offer quality, reliable products that stand the test of time, products with a soul! We sell joy, which is quite delightful. Customers are happy to buy our products, and when we see them again the following year, they've had success, they are happy. The customer interaction is very satisfying.